VB6 - Send HTML Email
If you want to specify the font, color or insert pictures in your email, you should use Html email format instead of Plain text email format.
The following example codes demonstrate how to send HTML email using SMTP server.
Installation
Before you can use the following sample codes, you should download the EASendMail Installer and install it on your machine at first.
Add Reference of EASendMail ActiveX Object to VB6 Project
To use EASendMail SMTP ActiveX Object in your project, the first step is "Add reference of EASendMail to your project". Please choose menu->"Project" -> "References"- > and choose the "EASendMailObj ActiveX Object", click "OK", the reference of EASendMail ActiveX Object will be added to your project, and you can start to use EASendMail to send email in your VB6 project.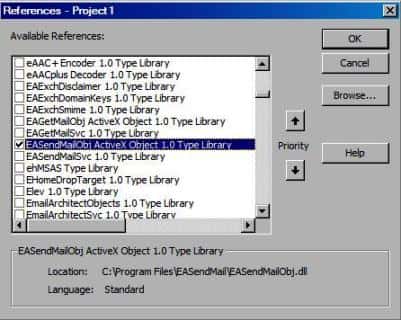 ' The following example codes demonstrate sending email message with HTML body format
' To get full sample projects, please download and install EASendMail on your machine.
' To run it correctly, please change SMTP server, user, password, sender, recipient value to yours
Private
Sub
btnSendMail_Click()
Dim
oSmtp
As
New
EASendMailObjLib
.Mail
oSmtp.LicenseCode =
"TryIt"
' Set your sender email address
oSmtp.FromAddr =
"test@emailarchitect.net"
' Add recipient email address
oSmtp.AddRecipientEx
"support@emailarchitect.net"
, 0
' Set email subject
oSmtp.Subject =
"test HTML email from VB 6.0 project"
' Set HTML body format
oSmtp.BodyFormat = 1
' Set HTML body text
oSmtp.BodyText =
"<font size=5>This is</font> <font color=red><b>a test</b></font>"
' Your SMTP server address
oSmtp.ServerAddr =
"smtp.emailarchitect.net"
' User and password for ESMTP authentication, if your server doesn't require
' User authentication, please remove the following codes.
oSmtp.UserName =
"test@emailarchitect.net"
oSmtp.Password =
"testpassword"
' If your smtp server requires SSL connection, please add this line
' oSmtp.SSL_init
MsgBox
"start to send email ..."
If
oSmtp.SendMail() = 0
Then
MsgBox
"email was sent successfully!"
Else
MsgBox
"failed to send email with the following error:"
& oSmtp.GetLastErrDescription()
End
If
End
Sub
After you received the email by your email client, the body text is like this:

Of course, you don't have to write the HTML source body text in your application manually. You can build a html file with HTML tools and use ImportMailEx method to import the html file directly.
You can also refer to the htmlmail.* samples in EASendMail Installer. Those samples demonstrate how to build a HTML email editor and send HTML email with attachment or embedded images/pictures.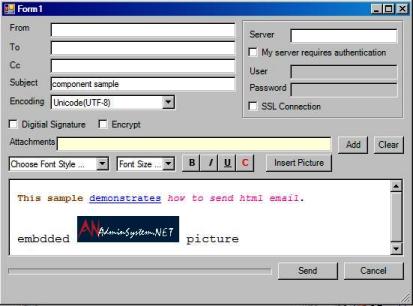 Appendix
Registration-free COM/ActiveX with Manifest File (Distribution)
Process Bounced Email (Non-Delivery Report) and Email Tracking
Bulk Email Sender Guidelines
Comments
If you have any comments or questions about above example codes, please click here to add your comments.
Free Email Support
Not enough? Please contact our technical support team.
Remarks
We usually reply emails in 24hours. The reason for getting no response is likely that your smtp server bounced our reply. In this case, please try to use another email address to contact us. Your Gmail, Hotmail or Yahoo email account is recommended.